At some point in the past year we looked around the world wide web and realized there's not a lot of great writing out there designed to help renters solve problems. There's a multitude of how-tos, dos and dont's and other types of advice being served up to the other (richer) side of the equation, landlords, but tenants are left to sort through websites like this one.
Gross.
The point of this blog and our knowledge base is to offer up the information people need in order to have a 10/10 experience renting an apartment. A major way we do this is by making sure people understand their rights as tenants - not just their right to sublet or get out of a lease, but to live in an apartment that meets their needs without being gouged on rent, other fees or lost security deposits. On a daily basis we get asked things like:
My landlord took the cost of repainting and cleaning the apartment out of my security deposit when I left. Is that allowed? (NO)
Can my landlord charge me to repair the boiler? (NO)
Do I have to follow a rule that my landlord added into the lease agreement after I signed it (HARD NO)
Wow. People really do not know much about this topic. That's why...
We're hiring!
We're looking for someone with a journalism and writing background who will take the mission we've laid out (see above) and run with it. That means that the day to day responsibilities are as much up to you as they are to us, but generally you will:
Write at least a few blog posts each week on topics that you choose
Stay up to date with the information about landlord-tenant law and renting in general that's currently available in our knowledge base so you can write relevant blog posts
Find freelancers to cover other beats important to our audience (building your credit score so you can get nicer apartments, designing a room when you know you won't be there too long, etc)
Work closely with the Head of Creative Content to produce posts that will resonate with our audience on social media
Working at Caretaker isn't like working at most other companies, because we keep our team small and expect everyone on it to act like the CEO of their individual wheelhouse. If you:
Have ever made your own blog or publication (or started doing it but realized you needed money to eat and live so you stopped)
Want to be the one who decides what you write about all day
Feel confident that you can write informative and educational content in a way that's engaging and fun to read
Work at a fast-paced, consumer-facing outlet and are sick and tired of having to post new things multiple times a day even if you don't have anything unique to add
then it might just feel amazing to work here. This is a full-time role with a competitive salary. We offer great benefits (health, dental, commuter, gym membership reimbursement), a relaxed work environment and we're flexible about things that might matter to you: i.e., how often you can work from home, working remotely or bringing your pet to the office.
We prefer someone in NYC, but are also open to full-time remote.
Interested?
Take a look at the kind of blog posts we publish. Here are a few selections:
If you have written anything similar in tone, send it to rachel@flip.lease, along with a note about your experience, background, and any other information you think would be relevant. If you haven't written anything quite like that, send us any writing samples you think will impress us.
---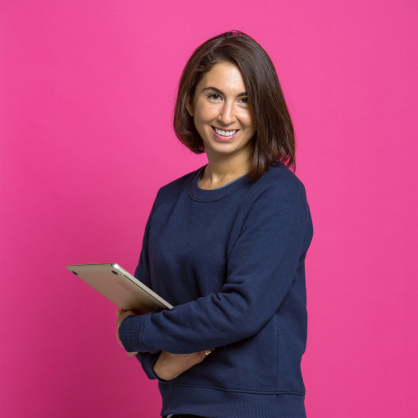 ABOUT THE AUTHOR
Susannah Vila is the Chief Executive Officer and co-founder of Caretaker. She is a problem solver, a writer, and an aspiring engineer.